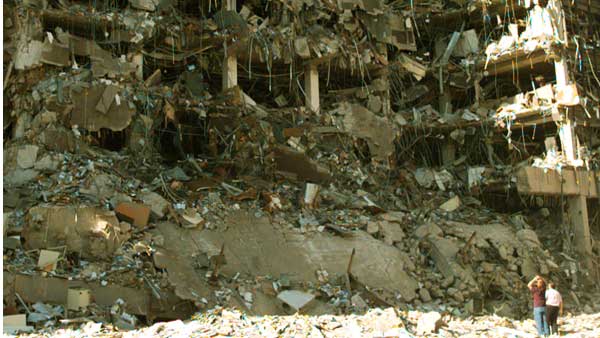 Steven Frischling did not take this photo.
It appears no major news event can occur without fraud blogger Steven Frischling inserting himself in after the fact. The more heinous the event, the more important it is to him to have been present.
Thank you to a reader who found this ridiculous post on the
Foundation Workshop Forum
from 2008, back when Frischling was looking for more brides and grooms to rip off:
"Last time I was in OKC a building blew up (well actually it blew up a few hours before I got there and I'm pretty sure the guy who did that was caught,convicted and executed"
Yes, according to Steven Frischling, he arrived in Oklahoma City on April 19, 1995, "a few hours" after a bomb tore through the Murrah federal building, killing 168 people (including 19 children) and injuring 800.
In April 1995, Frischling was a 19-year-old wannabe AP stringer in New York. He would not have been sent to Oklahoma City and even if he paid his own way, it's all but impossible that he could have traveled from New York to Oklahoma City in mere hours.
Even if Frischling somehow, some way, miraculously got there that day, where are the photos to show for it? There's not a single photo on his website (or any other website that we can see) that he took in Oklahoma City on April 19, 1995. Even if he got there days later, he could have taken some incredible photos. (The main photo on Wikipedia's page on the bombing shows the destroyed building on April 21.) Why are there no other references to Frischling being there in the aftermath of this tragedy, which at the time was the worst act of terrorism on U.S. soil? The anniversary of the event happens every April and he's never mentioned being there that day or the horrific images we can assume he would have seen.
Not only that, notice how he has to make light of the day, joking that he sure didn't do it, because he is "pretty sure" the real culprit was caught and executed.